3rd Party Testing: Carnegie Mellon
All of the TraceTek products in this catalog are unique in the leak detection industry. TraceTek sensors DIRECTLY sense the materials being monitored at the sensor level with NO electro-mechanical components. Effectively, this is like having a sophisticated chemical lab positioned all along the sensor's length. And it works.
TraceTek 3rd Party EPA testing by Carnegie Mellon indicates a 100% chance of detection and a 0% chance of a false alarm for ALL sensors. Additionally, 3rd party threshold response testing demonstrates a 25,000 - 50,000 ppm sensitivity to hydrocarbon liquid and vapor phase materials.
3rd Party Testing Results and Approvals
In conclusion it must be noted that proper installation and positioning of the sensor, taking into account the local site conditions, is critical to reliable detection of leaks. A suitability study should be conducted at each potential site to determine that the sensor is positioned correctly to take advantage of soil, water and backfill conditions and to insure that a leak from the pipeline will migrate toward the sensor. In dry fill, low water table conditions, the sensor should be placed on the pipeline bedding layer near by, but not beneath the bottom of the pipeline. Placing the sensor cable above the pipeline in dry backfill conditions will not be effective for the early detection of leaks. In wet fill, high water table conditions, the sensor cable should be positioned above the pipeline and a polyethylene sheet should be placed along the trench to cover the sensor cable and conduit. Sensor cable that is positioned below the pipeline in high ground water conditions will not be effective for the early detection of leaks. In extreme cases where seasonal fluctuation in the level of the water table cause alternate wet or dry conditions, two cables (one at the bedding layer and one above the pipeline) should be considered."

---
---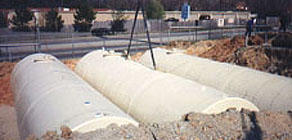 EPA and Leak Detection for Undergroung Storage Tanks
U. S. Environmental Protection Agency Underground Storage Tanks Detecting Releases

What leak detection methods can you use to detect leaks from tanks?
Owners and operators of petroleum USTs must use at least one of the leak detection methods below, or other methods approved by their state agency.

1. Secondary containment and interstitial monitoring - This involves placing a barrier between the UST and the environment. The barrier provides 'secondary' containment and can be a vault, liner, or the outer wall of a double-walled structure. Interstitial monitoring methods range from a simple dip stick to automated vapor or liquid sensors permanently installed in the system. All USTs holding hazardous substances that were installed after December 22, 1988 must use this method...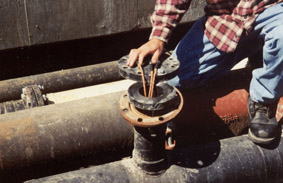 What leak detection methods can you use to detect leaks from piping?
Secondary containment with interstitial monitoring can also be used to detect leaks from piping."